Socially Responsible Farming
At Rabbit River Farms we strive to improve the standard of living of both people and livestock through socially responsible and sustainable organic farming. At heart, we understand that healthy hens lay healthy eggs and that healthy food leads to healthier people.
We create and implement our policies and programs by giving emphasis to the following five cornerstones of socially responsible and sustainable organic farming:
contributing to human health
conserving the environment
sustainable farming practices
improving the quality of life of our livestock
Advocacy of Organic Family Farms
Human Health
Our organic eggs serve as one of nature's most nutritious, wholesome and natural food source. One large egg contains only 70 calories and an incredible amount of nutrition. Eggs are one of the few foods considered to be a complete protein because they provide all nine essential amino acids which the body does not produce.



Canada's Food Guide to Healthy Eating recommends 2 to 3 servings of meat and alternatives per day. [Canadian Food Guide] Helping to fulfill this recommendation, two organic eggs are considered one serving.
Using sustainable organic farming practises to grow the feed for our hens helps the environment by reducing soil pollution and enhancing soil quality. We help maintain a balance in the food chain by using natural, biological pest controls rather than harmful chemical pesticides.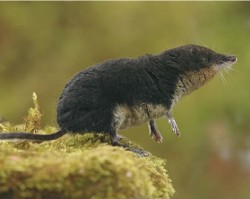 Conserving the Environment
Prior to expanding our Richmond farm, Rabbit River Farms employed a professional biologist to study the farm land and surrounding habitat. We discovered that the perimeter trees on our farm were used for nesting of small raptors and other bird species. We also learned that the canals and ditches surrounding our land are habitat for the Pacific Water Shrew – a cute creature that is able to "walk on water" in pursuit of its insect diet. The Pacific Water Shrew is on the BC ₀Species at Risk". By careful planning and property setbacks we have been able to protect the habitat for both the birds and the shrews. We have learned that the canals surrounding our farm also play home to beavers, otters, muskrats, minks and many other species of waterfowl and fish.
As would be expected, Rabbit River Farms' practices include Reducing, Reusing and Recycling as much as possible. Our barn and grading station equipment is designed in a way that reduces energy consumption and waste water, while increasing the quality of our products. This in turn make us more economically and environmentally sustainable. The cartons used to pack eggs are made of 100% recycled material. We also recycle any waste plastic and cardboard created by the operations of the farm.
Sustainable Farming Practices
Our organic egg farm is certified by Pro-Cert Organic Systems, the BCSPCA and the CFIA. There are no antibiotic or synthetic chemicals used in either our chicken feed or flock management and the organic chicken feed we use is GMO-free, all vegetarian, enriched with soy, wheat, buckwheat, corn and other organic legumes and natural minerals. Acting locally, the organic feed we used is milled in a local organic feed mill and wherever available, B.C. grown grains are used.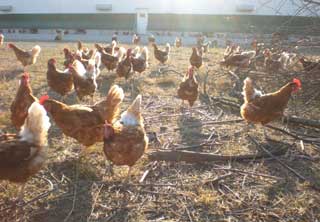 At Rabbit River Farms we nurture our organic hens by allowing them to range freely on organic pasture and exposing them to fresh air, natural daylight, clean water and organic feed. Our natural farming processes produce certified organic eggs and organic manure. The eggs are used in local bakeries and restaurants and sold in hundreds of stores in BC and Alberta. The organic manure produced at Rabbit River Farms is further used in a sustainable manner to help grow organic and Asian vegetables on local Ladner and Surrey farms.
Quality of Life for Livestock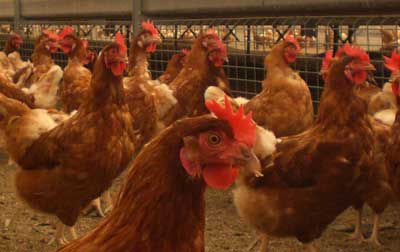 Our hens are completely cage-free both inside and outside the barn which allows for a normal social order in the roost. In contrast to hens that are raised in caged battery systems inside black out barns with no access to natural daylight, Rabbit River Farms' hens live in an environment which reduces mental and physical stress. Our hens spend on average one third of their life outside the barn on organic pasture.
In order to continually maintain a high level of observation and awareness of the true natural animal behaviour norms for hens, we also have one flock which produces fertile eggs. Therefore, removed from our hens which supply commercially sold organic eggs, we enable some of our livestock to reproduce in a more traditional and "non-commercial" way. With this valuable behavioural awareness we are better able to enhance the environment and barn systems for our commercial flocks.
Advocacy of Organic Family Farms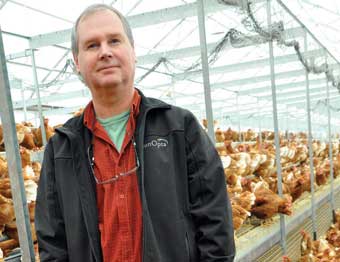 Rabbit River Farms' Founder, Stephen Easterbrook has lobbied extensively to the BC Farm Industry Review Board and Ministry of Agriculture to establish "New Entrant" programs to enable local families to farm organic  and cage free eggs. Prior to this there were restrictive regulations and unreasonable financial barriers that virtually prohibited new farmers from egg production. Our Founder also conducts frequent public tours to help educate the public on the principles of organic farming and humane farm animal welfare as well as to provide transparency and education about sustainable farming practises.